Buy and Sell AUTHENTIC Pre-Owned Luxury Handbags and Accessories
---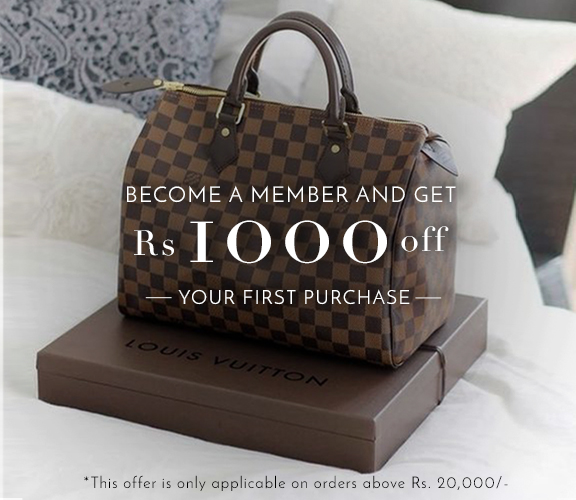 DELIVERY AND SHIPPING
1) Do you ship Pan India and to International destinations?
We offer free domestic shipping, with free Cash On Delivery (COD) facility across India. We currently do not offer International Shipping.
2) How many days does it take for delivery, once I place an order?
Typically your item will be delivered within 5-7 business days from the day you place your order. (We do not deliver on weekends and Public Holidays) However, we cannot be held liable for any unforeseen delays in delivery.
3) Do you charge for delivery?
No, we do not charge any additional delivery fees for deliveries across India. However, additional charges as per some state laws will be borne by the buyer.
PRICING
1) Do you negotiate prices?
We do not negotiate on price of any of our items. The prices are fixed at the amount indicated on the website. We do our best to price our items as low as possible based on the brand, style, condition, and fair market value.
2) Do you ever have Sales?
We do not offer regular sales events. We discount select items after they have been available for an extended period of time on our website. Please check the "Discounted " tab, located on the menu bar, to view these discounted items.
3) How is Price Determined?
To determine prices, we consider recent sales of comparable items, the original retail value of the item, the condition and rarity, and current fashion trends.
GENERAL
1) How can I be sure my item is authentic?
At LabelCentric, we take the authentication process very seriously. Careful measures are taken to ensure that every item listed for sale is authentic. We offer a lifetime authenticity guarantee for every item we sell or 100% of your money back.
2) What condition are the items in?
We are selective in the luxury goods we accept and generally sell only new, like new or gently used items. Gently used items have minimal signs of soiling, abrasions, stains and scratches.
Every item includes a detailed description of its condition and images of any flaws or signs of wear. We do not sell items that are damaged beyond regular wear and tear. This includes items with broken hardware, zippers, significant tears or stains.
3) Do items come with original packaging and paperwork?
Items that come with their original boxes, dust bags, authenticity certificates, and manuals will contain the appropriate message in their product descriptions.
4) Are the images shown on your website of the actual items listed for sale?
Yes, we take detailed images of every product that we sell. We do our best to provide images of areas of wear for a Pre-Owned item.
5) What forms of payment do you accept?
We currently offer Cash on Delivery/Credit Card/Debit Card/Easy EMI/Net Banking/Bank Transfer modes of payment:
Cash on Delivery: We offer free Cash on Delivery services across India. However, there may be certain PIN codes where we do not have a Cash on Delivery service. Please get in touch with our customer care team via info@labelcentric.com or contact us at +91 9167672975 to avail assistance for the same.
Credit/Debit Cards: We accept credit/debit cards from all major banks for a safe and secure payment.
Easy EMI: We offer Easy EMI (Equated Monthly Installments) through Credit Cards/Banks and our EMI partner ZestMoney.
Net Banking/Bank Transfer: You can get in touch with our Customer Care team at info@labelcentric.com to assist you in carrying out a bank transfer.
6) What is your Return Policy?
If you are unsatisfied with your item, you may return it within 7 days of receipt for a full refund. We ask you to return the item in the condition you received it, with the LabelCentric security tag attached and intact, in order to receive a full refund.
To help avoid unnecessary returns, please read the description and view the photos carefully, in particular noting the size of the item and any possible flaw.
7) If an item is returned, when will my payment be refunded?
Refunds for qualified orders are typically issued within 7 business days from the date that the item was delivered back to us at LabelCentric.
8) What is a Security Tag?
We place a security tag on each item we sell. It will not damage the handbag or item in anyway, and is easy to remove with scissors. The hang tag is not re-attachable. If you attempt to remove the security tag or the original tags on the item, a return will not be accepted.
9) Is my information Secure?
Yes. At LabelCentric your privacy and security are important to us. The information we collect through our Site helps us provide you with information specific to your needs and interests.
10) Can I Cancel an Order?
Yes. Should you find it necessary to cancel an order you may do so prior to the item being shipped/delivered.
Please contact us at +91 91676 72975 or email us at returns@labelcentric.com to cancel orders.
GENERAL
1) What items can I sell?
We take Authentic Pre-Owned luxury goods that are unused or have been gently used, with no significant defects. If the item has been repaired, it must have been done so at a factory authorised repair centre, and must have the receipt for the same.
2) What brands do you accept?
We accept most items from the brand names listed in the 'Accepted Designers' Tab located on the bottom of the Sell Page. In case a particular brand item, you wish to sell is not listed here, please contact us on info@labelcentric.com and we will revert back to you.
3) Will you buy my designer items (instead of consignment)?
No, we only offer a consignment option, which means that we pay you after the item has sold.
4) Do I need to clean my items before sending?
Yes, please do your best to clean your items as best as possible before sending your items to us. Please be sure to remove any items from interior and exterior pockets where applicable.
5) How do you determine the price at which an item will Sell?
To determine prices, we consider recent sales of comparable items, the original retail value of the item, the condition and rarity, and current fashion trends.
We work with our Sellers to fix a price for their items and selling price is only fixed once the seller approves the price.
6) How and when do i get paid for my consigned items?
Payment will be issued to you within 15 business days after the item has been sold, payment for the item has been received, and the item has been delivered. We keep a few days in hand before releasing payments, in case of return of a sold item.
7) What if my item is not authentic?
As a Seller, you have to attest that all item(s) being sold to us at LabelCentric are authentic.
If any item is found to be a counterfeit or not authentic, we will return the item to you (Seller) upon payment of an amount of Rs. 2,000/- (Per Item) as and by way of penalty charges.
The pick up of such items has to be arranged by you at your cost.
8) Does LabelCentric keep my item or do I?
LabelCentric keeps your item for the purpose of maintaining its condition and quick delivery.
9) How do I send my items to LabelCentric?
We offer a free pick up service for our sellers across India.
10) How do I sell my item at LabelCentric?
Selling your item with us is an easy and simple process!
Register/Login
Fill in the Item Submission Form
You will receive a quotation from us at LabelCentric within 72 hours, for your approval.
Once you approve of our quotation, we will collect the item and a signed copy of the Consignment Contract from you.
We do the rest. (We will authenticate, professionally photograph and upload your item to the site within 2 weeks)
CONSIGNMENT
1) How does the consignment process work?
Consignment is when you give your items to us to be sold and receive a portion of the sale price after we sell and deliver the item.
2) What are your consignment fees?
We charge a 40% commission as our fee on the final Selling Price of an item worth Rs. 20,000/- or less.(You keep 60%)
For items Selling for above Rs. 20,000/- we charge a 30% commission fee. (You keep 70%)
3) How long do you keep the consigned items for?
We will keep your item for a minimum period of 90 days. You may choose to end the agreement at any point, subject to a 7 day notice period and a handling fee equivalent to 10% of the finalized Sale price of the item.
This is to cover our costs of authentication, bag spa, photography and marketing. The pickup of such items has to be arranged by you at your cost.
4) What if my Consignment item does not sell?
If an item remains unsold after 90 days, we will contact you to discuss keeping it available for sale at a reduced price or returning the item to you at our cost.